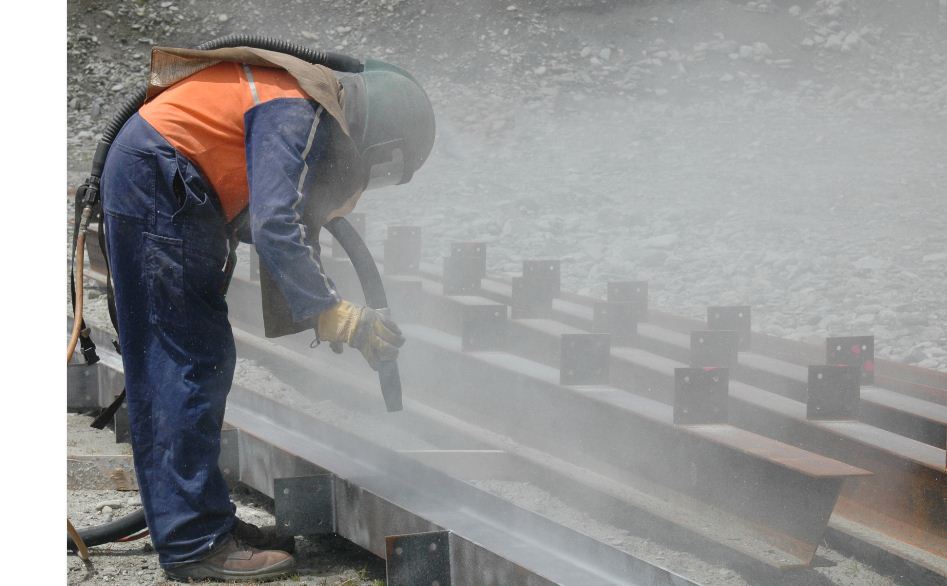 Global Garnet can supply a wide range of quality hard rock garnet abrasive products and grades that can be used for many types of industrial Blasting Applications & Industries

Our garnet blasting abrasives have a heavy mineral structure and smaller grade particles enabling the material to settle down rapidly, resulting in lower dust levels during blasting and a greater blast surface area covered per hour. 
As garnet blasting abrasives are heavier by volume they are more recyclable than conventional slag or most abrasive product alternatives. To find out more about the extensive benefits and competitive advantages of hard rock garnet, please Click Here

Below are our most popular mesh sizes and commonly used grades for blasting. To meet our customers specific and individual requirements, we can produce product as small as 200 mesh if needed.
Blasting Abrasive Mesh 10/20
Larger / coarser particle size
Heavier product for the fastest removal of thicker layers of rust and paint where the surface finish does not need to be smooth.
Blasting Abrasive Mesh 20/40
Medium / intermediate particle size
A larger sized grain used for faster removal of harder surfaces where speed is important or there are thicker layers of paint and/or rust.
Blasting Abrasive Mesh 30/60
Finer / smaller particle size
Most popular and widely used grade or mesh size
A robust and everyday grade used primarily for new steel & maintenance work and industrial applications such as machinery maintenance, paint & rust removal prior to painting and surface preparation in industrial painting applications.
Retention Rates for Blasting Abrasive Grades
| Mesh | Size MM | | | | | | |
| --- | --- | --- | --- | --- | --- | --- | --- |
| | | 16/30 MESH | 20/40 MESH | 20/60 MESH | 30/60 MESH | 40/60 MESH | 80 MESH |
| 14 | 1.40 | | | | | | |
| 16 | 1.18 | 0-5 | | 0-1 | | | |
| 18 | 1.00 | 10-20 | | | | | |
| 20 | 0.85 | 20-35 | 0-5 | 0-5 | 0-1 | | |
| 30 | 0.60 | 20-35 | 30-60 | 10-25 | 0-10 | 0-5 | |
| 40 | 0.43 | 0-12 | 35-60 | 25-50 | 10-45 | 40-65 | 0-5 |
| 50 | 0.30 | | 0-18 | 25-45 | 40-70 | 30-50 | 0-50 |
| 60 | 0.25 | | 0-5 | 0-15 | 5-20 | 10-20 | 15-50 |
| 70 | 0.21 | | | | 0-10 | 0-7 | 10-55 |
| 80 | 0.18 | | | 0-5 | 0-5 | | 5-40 |
| 90 | 0.16 | | | | | | 0-15 |