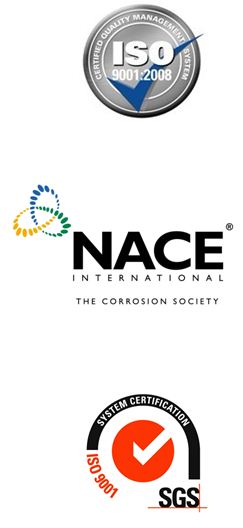 Our hard rock almandine garnet meets the highest quality and safety standards. Each of our factories is ISO 9001:2008 certified for the Processing & Sales of Garnet under a comprehensive quality management system and are equipped with processing lines that can wash the material according to gravity and the magnetic concentration principle (separation of metals) – to ensure our garnet products are low in dust and virtually free of water soluble chlorides.
After extensive washing, dust removal, drying and product categorization our factories on-site laboratory and testing centre then ensures the final garnet material meets the highest quality & safety principles, adhering with ISO standards for high cleanliness, high dryness, high purity and low impurity, specifically; ISO 11126-10:2000E for Chloride & Free Silica Content, ISO 11127-6 for Water Soluble Chlorides (Salt Levels) and ISO 11127-5 for H2O (Moisture).
Finally, all shipments are checked by SGS for independent third party quality & quantity verification and assurance, prior to shipping any material to our customers. For further information on SGS, the world's leading inspection, verification, testing & certification company and recognized as the global benchmark for quality and integrity, please Click Here.
1. SGS Testing Reports for Global Garnet are available upon request
3. Testing samples are available upon request for major orders, projects, contracts and tenders